M45 - The Pleiades Cluster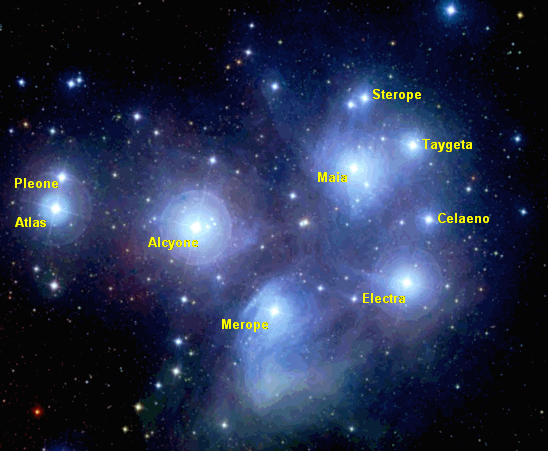 AKA The Seven Sisters.
Open Cluster M45 , Type 'C', in Taurus
RA 03:47.0 (h:m) Dec +24:07 (deg:m)
Distance: 380 Light Years
Embedded in blue-colored reflection nebulae and visible to the naked eye.
Photo Credit: Palomar Sky Survey
The brightest star by itself in the middle of the photo is Alcyone. Although this cluster is called the seven sisters and has nine named stars, when viewing with the naked eye you can usually only see 6 (noted in bold), or sometimes fewer stars depending on viewing conditions. The brighter star at the left on the photo is Atlas, and the one just above it is Pleione, who depending on which mythology you read were the father and mother of the seven daughters. The seven daughters in order of brightness are Alcyone, Electra, Maia, Mereope, Taygeta, Celaeno, and Sterope. Besides the named stars, there are actually over 3000 stars in the cluster, which is one of the closest and brightest clusters in our galaxy.

In the cases where two or more stars are close together, they may appear to look like only one. Also there is the reflection nebula which blends the light making it hard to pick out the individual stars, which in my opinion mostly accounts for why you can only see the five or six brighter stars with the naked eye. Without binoculars, I always wonder if I am actually seeing the individual stars, or the blending effects of the nebula.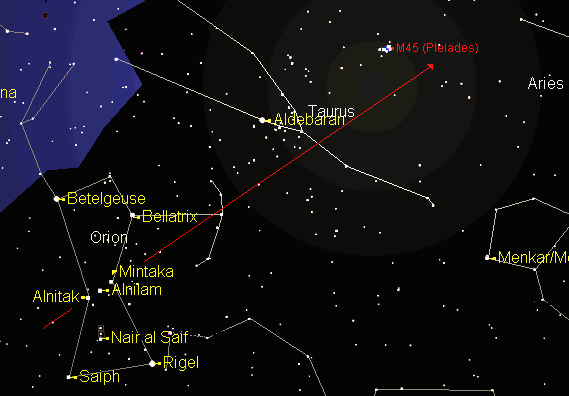 The Pleiades cluster is easy to find.
Just follow line of Orion's belt through Taurus towards Aries.
FUN FACT: Think - Feel - Drive ?

The Japanese name for the Pleiades is Subaru,
thus the 6 stars on the blue colored logo of the car.