Free Javascripts
See these javascripts in action and then view the source code.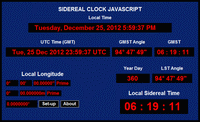 Free Sidereal Clock Javascript by Indigotide.
Design Intent: Windows Desktop Application
Script Features: UTC to GMST conversion
To use it, all you need to do is set your local longitude.


Free Binary Clock Javascript by Indigotide.
Script Features: Bitwise Comparisons

Free Software
Visual Basic Program for Windows

Black Hole Game, Free Software by IndigoTide

Launch probes into the uncharted depths of outer space to look for hidden black holes. Chart these invisible chasms of certain death so future space travelers will be able to colonize new worlds and expand the limits of known space. Score high enough, and you might even earn a free trip to the galactic core!

Free Astronomy Software MAXCLOCK
http://www.umark.de/maxclock_main_e.html
Check out this text based astronomical clock program by Udo Mark that was compiiled in FORTRAN and runs under DOS or in a DOS CMD window in windows.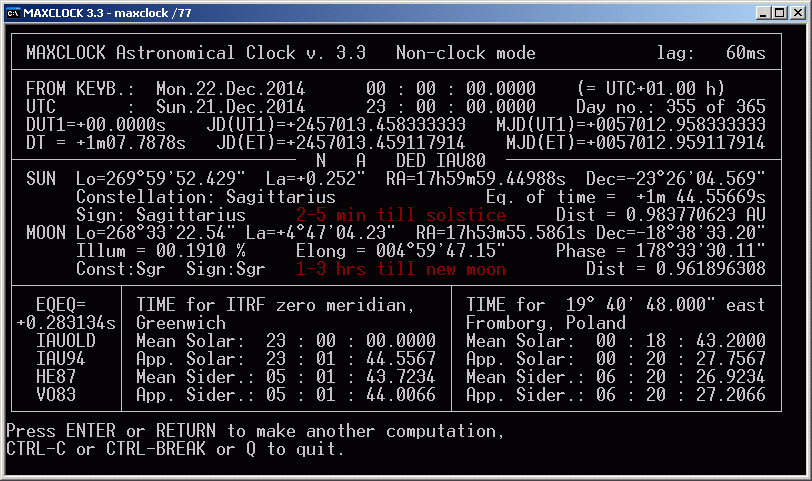 In no event will Web Designs By IndigoTide be liable to any party for any direct, indirect, special or other consequential damages arising from any use of software found here, or links to third party websites, including, without limitation, any lost profits, business interruption, loss of programs or other data, loss of images or web pages, loss of printed or electronic media, or otherwise, even if we are expressly advised of the possibility of such damages. These programs and links are provided "
As-Is
" without warranty of any kind, either express or implied, including, but not limited to, the implied warranties of merchantability, fitness for a particular purpose, or non-infringement. Any use of software or links to third party websites indicates your full acceptance of these terms and conditions.